file="http://prescottsummitpoa.com/wp-content/uploads/2018/05/how_to_prepare_wildfire_033014_508.pdf"]
The following transfer stations will be open for residential use only, no commercial loads will be accepted: Black Canyon City, Camp Verde, Congress, Mayer, Paulden, Seligman, and Skull Valley.
The two stations closest to Prescott, Prescott Valley and Chino Valley are the Mayer Transfer Station, located at 11130 S. Antelope Creed Road, a quarter-mile south of Mayer on Old Black Canyon Highway, open from 8 a.m. to 4 p.m. Tuesday through Saturday; and Paulden Transfer Station, located at 23750 N. Marblehead Avenue, off Big Chino Road, open 8 a.m. to 4 p.m. Thursday through Saturday.
Slash includes brush, branches, grass, leaves and yard trimmings. Items not accepted are lumber, stumps, roots, cactus, metal and garbage. All slash must be removed from plastic bags.
The county encourages residents to take advantage of this program. It's the perfect time to create defensible space around homes for a safer environment for firefighters. Keeping fuels managed is absolutely necessary to help avoid uncontrolled fires.
Here's how to be firewise:
-Cut away vegetation 5-30 feet from all structures.
-Remove debris and dead vegetation from roofs, decks and ground.
-If using equipment to cut and trim, beware of sparks.
-Have a family evacuation plan in place before it's needed.
-Free drop off takes place during normal operating hours; the days and times may differ from location to location. Visit www.yavapai.us/Portals/30/TransferStationList.pdf. For more information, call the Yavapai County Public Works Department at 928-771-3183.
Residents also may want to sign up for the Yavapai County Sheriff's Emergency Notification System to be notified during emergency situations. Visit www.ycsoaz.gov for more information or call 928-771-3321.
BE PREPARED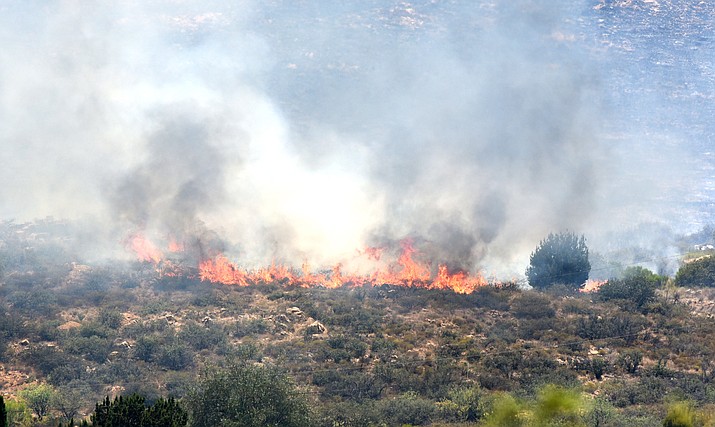 February 15, 2018 (Daily Courier)
This year's exceptionally dry winter has prompted Gov. Doug Ducey to ask the Legislature to boost funding for fire prevention efforts in the coming budget year, which begins July 1.
Ducey's office announced this past week its request for money to be doubled to remove brush and other dangerous fuels because the ongoing drought has vastly increased wildfire risk. The governor had earlier asked for $1 million but now wants that amount increased to $2 million.
The current fiscal year's $1 million for fire prevention wasn't completely spent, but Ducey is pushing the state Forestry and Fire Management Department to use all of the new funding.
It was warmer for January than usual in this region — 6.6 degrees warmer — and drier, too, with Prescott receiving only 1.14 inches of precipitation, or 0.45 of an inch less than the average.
Prescott tied a record high temperature of 67 degrees on Jan. 5, equaling the high on the same date in 2003, and again on Jan. 23, when it was 71 degrees.
"The past four months, coupled with current 90-day forecast, projecting into April, has us very concerned," said Pete Gordon, the fuels, fire, and aviation staff officer for the Prescott National Forest. "The two precip events in January of this year locally brought very little immediate relief and no long-term relief.
"Current weather continues to be warmer and drier than normal, compounding the past four months impact on forest vegetation and soil moisture."
Gordon added that warmer and dry weather is expected for the next three months. "Unless we see significant and repeated precip events between now and May, this summer is looking to be one of the driest — again — on record," he said.
Meteorologist Tony Merriman, of the U.S. Weather Service office in Flagstaff, also said there's little hope for substantial rain this spring.
"The outlook has been odds in favor of above-normal temperatures and below normal precipitation," he said.
"In Arizona, we added an 'extreme drought' category for southern Apache and Navajo counties," he said. "Yavapai County is still in a moderate drought, and right now, it looks like drought conditions should persist for the spring months."
The only possible advantage to the dry weather is that spring growth will be somewhat less, which will mean less fuel to dry out and burn when summer arrives. But the existing growth will dry out and be more likely to burn when a fire does ignite.
"If the dryness continues, annual spring growth is likely to be stifled or less robust," Gordon said. "Some species or specific plants may stay in dormancy longer than usual, making them dryer and more receptive to wildfire spread into our hotter summer months,"
He said late spring or early summer precipitation events might allow for reasonable spring growth. "However, if the forecast and trends continue to be dry, the soils will be dry, and the vegetation that is currently dormant won't have a moisture source to flush and put on new growth.
"I would not be surprised if together, we implement fire restrictions earlier than we ever have before," Gordon said. "The earliest in recent history was April 18, back in 2014. We may see it sooner than that date this year."